Alan Turing, inventor of the Turing machine and one of the earliest pioneers of computer science and artificial intelligence, was born June 23rd, 1912. To commemorate the centenary of Turing's birth, we are hosting three distinguished speakers who have been influenced by Turing's work. Lectures will be followed by a panel discussion, chaired by David Beaver, Director, NASSLLI 2012.
Registration:
Free tickets to TCS are available to everyone. NASSLLI, TLS or RAIN participants are already registered, and need not register for tickets to TCS. Others may be required to present 'tickets' (email confirmation of your $0 ticket purchase) at the door.
on EventBrite
.
---
Program: June 23, 2012
AT&T Conference Center, amphitheater
The symposium will be in the amphitheater at the AT&T conference center, near the entrance on Whitis.
---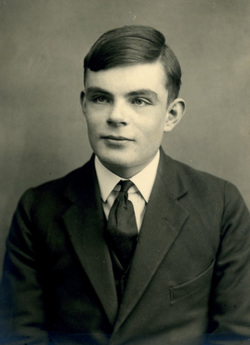 Other Turing celebrations:
Other Turing resources: